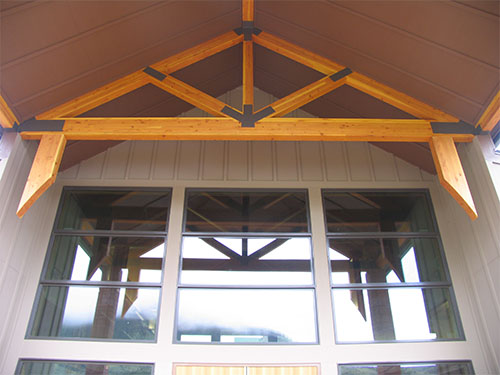 Glulam Trusses
Western Wood Structures specializes in the design, distribution, and installation of Glulam/Heavy Timber Trusses. When purchasing Glulam or Timber Trusses, Western Wood Structures (WWS) provides a complete package. We offer in-house engineering and detailing, in addition to Glulam/Heavy Timber with required steel and hardware connections. The trusses are preassembled in our shop to ensure accurate fitting, and can be shipped fully assembled to the jobsite.
Contact an experienced salesman to get budgetary costs based on length, width, and span. This is often done well in advance of a project, when costs need to be estimated for planning. Or, get a firm price by contacting a WWS salesman or by completing our basic "inquiry" form by clicking on the upper right hand corner link. Our staff will continue to work with you as your truss is designed, supplied, and fabricated.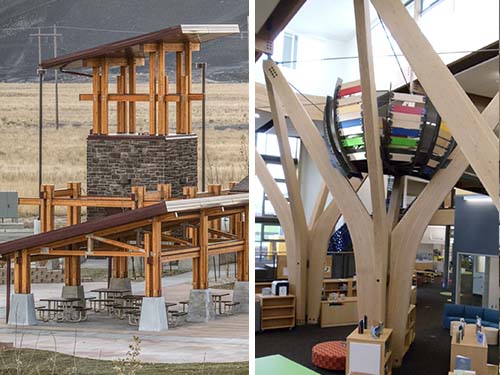 Glulam (Tutor Arches, Curved Beams, Columns & Beams):
Glue Laminated Timber, or Glulam, has been commonly used in construction for 70+ years. Glulam has nearly the same load capacity as steel, but at a far lower weight. Pound for pound, Glulam is stronger and is an environmentally friendly alternative to steel and concrete. Many different Glulam lay-ups, to meet loading requirements, are available in addition to visual grade options.
Glulam is available in Douglas Fir, Alaskan Yellow Cedar, and Southern Yellow Pine. Glulam can be custom built to meet a number of profiles including tight radiuses or curved glulam, double curvature, and tutor arches. Glulam is a diverse product that can be manufactured and fabricated to meet long structural spans, shorter spans, and certain architectural finishes such as stairs.